Improve Learning Outcomes through Innovative Teaching - Improve learning and research condition of core industries
In order to provide an excellent learning and research environment, to cultivate professionals of core industries and meet industry needs, Taipei Tech has established a teaching space, equipment and environment, handled various courses and industry visits, and promoted comprehensive internships, overseas internships and All-round promotion methods such as domestic and foreign competitions, and support students to obtain certificates, provide students with complete learning effectiveness certification, so as to create a platform for students to practice 5+N innovative industrial practical technologies, and create an ecosystem of industry-university-research resources sharing.
To this end, Taipei Tech has built the first "woodcraft industry talent cultivation base" in Taiwan, technically constructs a virtual field teaching system to help users learn the production process, cultivate talents that are close to the core industry needs, and promote the academy and characteristic experiments. The office handles industry-related diversified activities such as industry lectures, seminars, workshops, forums, competitions, and license training, to enhance the exchange of core technologies between domestic and foreign industries and school teachers and researchers, cultivate students' practical professional technical capabilities in core industries, and link learning and research Energy builds a systemic industrial talent cultivation environment.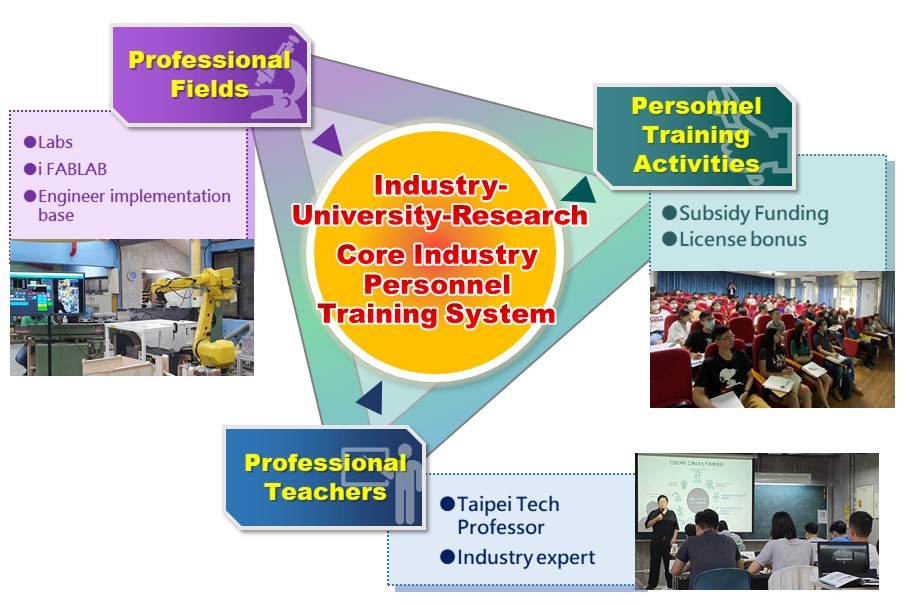 According to the " Subsidy method for the personnel training of core industry ", 7 core industry talent training activities were conducted, covering 5 national key characteristic industries including smart machinery, chip design and semiconductors, and all domestic and foreign scholars and senior industry experts were introduced. Lecturer, to improve the exchange and link energy of industry, university and research. In 109, a total of 399 people were promoted to obtain core industry licenses to ensure that the practical ability of students in the core areas of the school and internships meets the key teacher-level standards required by the licenses, so as to become the core talents of the industry.
May-June 109 year puppet show craftsmanship and transformation talent training event, invited general manager of Pili International Multimedia, and its core team to sort out the history and cultural context of Taiwan's traditional puppet show as a starting point, leading students to understand the puppet show industry at different times How to combine transformation with technology, and arrange comprehensive units such as character modeling, 3D printing puppet heads, modeling and prop design, and gradually cultivate the concept that students' traditional culture and modern technology complement each other, stimulate students' innovative thinking and practical practices, and train new links The talents of the old industry are really rare and valuable experience.